LIVE!   –   The What, Why & How of Social Media     Thursday 29 June    Book Now!
LIVE!   –   The What, Why & How of Social Media     Saturday 01 July     Book Now!
Here at Make A Difference, Jaz and Alma spend a lot of time talking to Businesses about "Why" they should be using Social Media. They also spend a great deal of time listening to the reasons Businesses put forward for why they are not utilising this Massive marketing opportunity for their Business growth!
Some of the reasons Businesses give us for Not investing in Social Media are:
We have been ripped off in the past

We don`t see the need for it in our Business

We don`t see any Benefits for our Business

Are our customers on Social Media?

Can Social Media really help us get Sales?

We don`t know how to approach Social Media

No one in the Business has the time to do Social Media

We only have a small budget

We cannot afford to invest in Social Media

We really need someone to guide us through the processes!
Can you relate to some of the above? Were pretty sure you can and probably you could put forward additional reasons or questions as to why you are not on Social Media or not seeing Social Media work for your Business
With over 20 years of Business Development and Business Growth Experience and focusing the past 5 years on working specifically with Businesses on "How to use Social Media Successfully", we can say with confidence that we can answer the above questions for you
Not only that but we know we can work with you, whatever your budget situation, to guide you and move you forward on the journey to Social Media Success in your Business!
We, (Jaz and Alma) are committed to making Social Media and Digital Marketing Accessible, Affordable and Actionable for Small Businesses. We are challenging the exclusion of the small and growing Businesses from accessing the knowledge and support required to be Successful with Social Media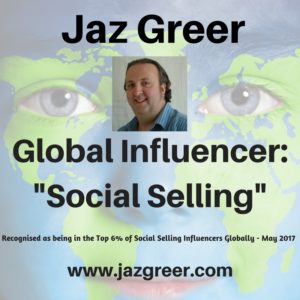 With this goal in mind Jaz Greer – pictured above, will be delivering an Educational Presentation that we are calling "The What Why and How of Social Media for your Business"
In the presentations we will be sharing with you what Really works in Social Media and what you have to Really do to get results from Social Media.
The Presentation will demystify Social Media and also debunk a lot of the myths around Social Media for Business. It will also introduce to the concept of "Social Selling!"
We will be sharing about What Social Media is, Why you need it in your Business and How you can implement what we will be sharing with you in your Business. We will be sharing High Quality Content – tested and proven methods for successfully using Social Media. We are Not into "Top Tips" which do not add real value to your Business
As a small business if you are looking to Invest in Social Media for your Business, build on what you are already doing and seeing Success, then this Educational Presentation event is for you!
We are looking for businesses that we can partner with over the long term to support you in your skills development, knowledge and application of Social Media within your Business. We will share at the end of the Presentation how we can achieve this with you – without any big sales pitch!
Live!   –    The What, Why & How of Social Media    Thursday 29 June    Book Now!
Live!   –   The What, Why & How of Social Media     Saturday 01 July     Book Now!
 Not ready to book onto the above Event – date not convenient, cashflow doesn`t allow you to attend just yet? Thats fine, we understand! Why not keep in touch with us and join our Mailing List below so you get the latest news and updates from Jaz Greer? 
Keep in touch via our Mailing List – Sign Up Below!
[ctct form="174″][/vc_column_text][/vc_column][/vc_row]