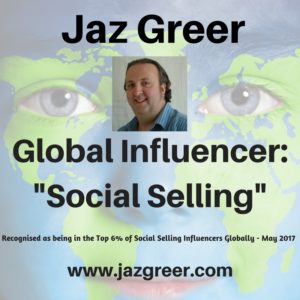 Optimising your Linkedin Profile Masterclass
With over 500 Million users, Linkedin is the Number One platform for Business. It is also the cornerstone to the New way of getting leads and Sales in your Business – Social Selling. At the heart of your Linkedin activity is your Profile and it is imperative that you look at Optimising your Linkedin Profile to grow your personal brand and your Business
So many people have a Linkedin profile that resemble a Resume or CV and in taking this approach they lose out onnot just being found on Linkedin through search, but in connecting with those people who visit their profile. A lot of Business if Lost because your Linkedin Profile is not optimised correctly
In this workshop, Jaz Greer (One of the top 6% Social Selling Influencers Globally) will share with you the Business reasons for having an optimised Linkedin Profile, How to structure your Profile to attract Leads and Business and show you how to use your Optimised Linkedin Profiel to reach beyond Linkedin and potentially start showing in Google Search Results Pages!
In this Masterclass we will be looking at the following:
Why you need an Optimised Linkedin Profile

The Benefits to your Business of having an Optimised Linkedin Profile

How this needs to be in line with your Business aims and objectives

Building your profile to be found on Linkedin and external Search Engines

The structure that will give you the best optimised Linkedin profile ahead of your competitors

The keys to attracting new connections through your new Optimised Linkedin profile

How to generate Leads on Linkedin through search and your Optimised Linkedin Profile
Who should attend this Optimising your Linkedin Profile Masterclass?
If you are a Business Owner who wants to Grow your Business and get more Leads from Linkedin then make sure you Book into this Masterclass Today!
If you work for  Business in a Sales or Business Development role and are looking at Linkedin to Grow your Network and populate your Sales Funnel, then you need to Book onto this Masterclass
If you are using Linkedin and not getting much traction, struggling to see how it can benefit your Business, then you need to be on this Masterclass so Book in Now!
What is the Investment for this Masterclass?
To attend this Masterclass and benefit from the knowledge, strategies and techniques shared, the investment cost is:
£ 155.00
This includes Tea/Coffee and Refreshments and Workshop Materials.
Not ready to book onto the above Masterclass – date not convenient, cashflow doesn`t allow you to attend just yet? Thats fine, we understand! Why not keep in touch with us and join our Mailing List below so you get the latest news and updates from Jaz Greer? 
Keep in touch via our Mailing List – Sign Up Below!
[ctct form="174″]